---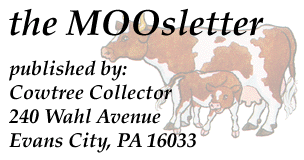 We are the International Cow Lovers' Quarterly. "All the MOOs that's fit to print!"
* Bovine Stories, MOOving Poetry, COWllectibles, COW Art *
* Photography, COWmedy, UDDER articles, COWrrespondence *
---
Please allow up to 10 weeks for replies. At present we are running about two months behind in answering snail mail.
---
C.J. Peiffer (teacher, artist, writer)
e-mail: moosletter@cow.net